Welcome to Baker Street Music Audio, Music & Voiceover Productions!
Quality Audio Production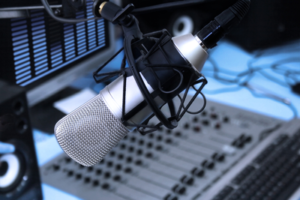 Baker Street Music is based out of beautiful Asheville, North Carolina and was established in 2006. We work with some of the best brand name equipment and recording software in the business to produce high-quality, effective products.
We pride ourselves in creating the highest quality audio pieces at a price that won't break your budget. Thanks again for stopping by, and please take the time to check out the services and products we offer – then, let us know how we can help create a custom piece that works for you next project!
So, what is it that we do?
CD Music
Check out the CD Music page for the latest music from Baker Street Music and Roger Baker. Here you can keep up with what's happening with the latest music projects and releases, and be the first to find out what's coming up next! Also, here you will find links for purchasing and downloading music files, how to connect, and where you can listen on the internet.
Click on the links below and become a fan! Follow Roger and his music here:
Quality Voice Over Service
Whether you are in need of a voice for a radio or TV spot, documentary or training video, e-learning, on-hold messaging or your latest web project, Baker Street Music can provide you with custom-recorded audio you need for all of your voice-related projects – at a price that fits your budget.
Other Services
Do you find yourself buried in an avalanche of audio work and need help with audio editing? We also offer audio editing services to help you get through that backlog of projects to get them completed, so you can get back to what you love doing most! Just contact us for a quote.
Do you have any old vinyl and cassettes you would love to hear again? Perhaps you don't have the necessary equipment to listen to any of your old records or cassettes that you still have. If you would love to listen to them again, we can transfer vinyl and cassettes to CD for you, or create digital copies for you to enjoy on your portable devices or computer.
Feel free to contact us below with any questions you may have about any of our services, and to receive more information!
Audio Editing
Transfer Vinyl & cassettes to CD
Digital copies for Mobile Devices
Get the Best Audio, Music & Voiceover Productions
Baker Street Music 828-275-8394
Friends and favorites of Baker Street Music: